The Ortur Laser Master 3 10 W laser engraver at 589€ with its free engraving support (worth 130€)!
I promised to find you the best prices to buy the Ortur laser Master 3 that I have just reviewed for you.
Well that day came earlier than I expected. It is possible to purchase the latest Ortur Laser Master 3 engraver for 589€ from Europe Stock at Geekbuying. You have to use the coupon code NNNFRPLANETE on that page.
This price is incredible and the lowest ever.
But that's not all! You also get the official Ortur engraving plate for free, which is a gift of 130€ at list price!
By placing the OLM3 in the shopping cart, the platform is automatically added as a gift.
This platform protects surfaces, limits burns on models and ensures precise positioning for repetitive work.
I have asked for confirmation that this is not a mistake and it is not. You will never get another opportunity like this because Ortur never sells out. Please note that stocks are limited.
The Ortur Laser Master 3 is objectively the best of the moment in the 10 watts engraver segment with a high level technical design and engraving and cutting qualities adapted to prosumers and demanding customers.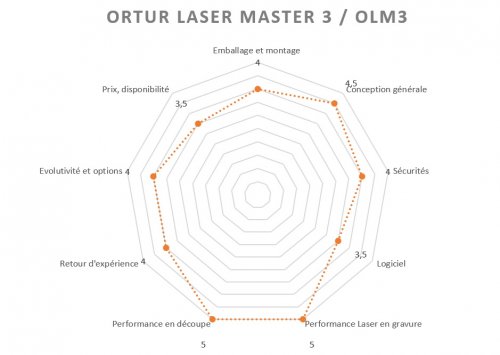 Its strenght :
A new generation all-aluminium frame with simple assembly
7 safety systems from emergency stop button to gyroscope
Maximum speed of 20,000 mm/min
Lightweight 10 watt laser head with shield
Integrated Air Assist system
Limit switches via TMC2209
Sockets for options such as the Rotary Roller
WIFI function to send models remotely via your network
Android/iOs mobile app for printing without a computer
Very clean and invisible wiring